NVLA Middle School will be fully online for the start of the 20-21 school year and will follow the school schedules approved by the CCSD School Board on July 21, 2020.
Middle school students have the opportunity to take select high school courses, but please be aware that middle school and high school courses will run on different calendars.
All courses that earn Middle School credit will run on the quarter-based schedule.
All courses that earn High School credit will run on the traditional schedule.
Aligning the NVLA schedule with the CCSD Reopening Plan allows students the flexibility of supplementing their zoned school schedule with one or more NVLA courses and allows students interested in full-time NVLA enrollment the flexibility of enrolling at NVLA mid-year.
Full-Time Middle School
Let Nevada Learning Academy at CCSD be your school
The Nevada Learning Academy at CCSD (NVLA) is a tuition-free online secondary public school, providing middle school students an enhanced educational experience. NVLA has a full catalog of online courses that include accelerated and general education classes in core subjects. Students will benefit from an individualized middle school program tailored to meet their abilities and educational goals.
NLVA middle school benefits include:
Highly qualified teachers in every course
Quality curriculum aligned to Nevada Academic Content Standards
Multiple curriculum options to meet the needs of diverse learners
Select high school courses available for middle grade students
Transportation is provided to the NVLA Campus through CCSD Transportation.
Grab-n-Go lunch service provided by CCSD Food Service Dept.
Apply Now!
---
NVLA offers a full-time middle school option for students seeking a new and innovative school experience. Students at NLVA will experience a blend of online learning and face-to-face instruction that includes collaborating with peers, project based learning, and lab experiences. Students and parents will work with a counselor to develop an academic plan working towards graduation.
| Time | Days | Grade |
| --- | --- | --- |
| 7:15am — 1:45pm | Tuesday & Thursday | 6 & 7 & 8 |
Lunch break is at 10:15 am.
Cold lunch options are available for purchase. To find out more about school lunch - Click HERE.
Teacher-Led Courses
NVLA's full-time Middle School students benefit from a blended online and face-to-face instruction that leads to an innovative and enriched school experience. The majority of the coursework will take place in the online environment using Canvas, a learning management system. Students are guided through with direct support from their full complement of teachers to augment their learning. Students are required to attend a face-to-face component two days per week at the NVLA campus. In these sessions students receive support for study skills, successful online learning strategies, content-area instruction, small group instruction, and project-based learning activities. Middle School courses for full-time students follow the traditional semester calendar and are designed to be completed within the semester. Teachers and counselors support students in this online environment in a variety of ways including: phone, email, live chat, text, and onsite at the NVLA campus. Enrollment in these courses begin at the start of each term.
Part-time (Concurrent) Middle School Students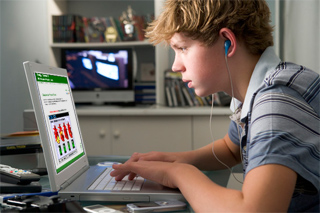 There are many reasons to take a course part-time with NVLA. You can accelerate your learning, replace credits, take courses not offered at your home school, or just enjoy the flexibility of online learning. NVLA's part-time students enjoy the flexibility to complete their coursework online with direct support from highly qualified teachers. Part-time middle school students may enroll in many teacher-lead courses. Part-time enrollment in courses may be subject to enrollment fees. Courses can be taken as part of the regular school day or as an additional after-school class.
Highly qualified teachers in every course
Quality curriculum aligned to Nevada Academic Content Standards
Multiple curriculum options to meet the needs of diverse learners
Select high school courses available for middle grade students